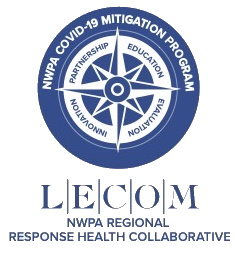 LECOM Health has been awarded to service a portion of Northwestern, Pennsylvania as the leader of the Regional Response Health Collaborative Program (RRHCP) from July 1st, 2020 to December 1st, 2020. We will be providing services to the area known as "NWPA-A", this includes Cameron, Crawford, Elk, Erie, Forest, McKean, and Warren counties. The objectives of the program are as followed:
Implementing evidence supported best practices and protocols developed at LECOM long-term care facilities for enhancing infection prevention efforts for COVID-19 readiness and improving the quality of care for other priority health care conditions common to facilities.
Enhanced testing capacity and expand public health surveillance with COVID-19 testing of asymptomatic staff and patients in facilities.
Facilitate access to alternative supply chain to supplement acquisition of personal protective equipment (PPE) and other essential supplies.
Directly support COVID-19 response with advanced clinical care, contact tracing, and designation of COVID-19 care areas.
Coordinate operations with the Department of Health (DOH) and Department of Human Services (DHS).
LECOM free COVID-19 drive – 09/02/2020
Teams from Lecom's RRHC Program helping to mitigate the spread of COVID-19 within long-term care facilities – 08/10/2020
RRHC Webinar Meeting – 07/31/2020
LECOM Health is helping the long-term care facilities deal with COVID-19 – 07/17/2020